My calculator in Excel.
I recommend buying a ventilation calculator for those who are already involved in mushroom growing and are absolutely sure that:
– the blocks are placed correctly,
— the location of the blocks will not change,
— all the necessary equipment and instruments to maintain the microclimate are available.
If you use a ventilation system like the one described in my article and just want:
– recalculate whether your fan and the diameter of the air ducts are calculated correctly,
– does the power of your heat exchanger correspond to what is required,
or build a new chamber in which to provide proper ventilation and microclimate, you will need this calculator.
Cost: $70.
To order write to me: e-mail: veshenka.expert@gmail.com
WhatsApp: +380503960696
Here are the files included in ventilation calculator:

The instructions "How to use a calculator" contain detailed information about what it should be:
– blower and exhaust fan,
– heat exchanger,
– air ducts,
– dampers for fresh air and recirculation,
– humidification system,
– cooling system for dry and hot climates.
Also in this file I describe equipment for hot and humid climates.
If you are not familiar with this kind of ventilation system, I recommend that you buy my manual with ready-made ventilation calculations, where the ventilation system is described in full, in great detail, with diagrams and drawings.
The ventilation selection calculator for growing oyster mushrooms was made in Excel
Even if you have never worked with it, the calculator is very easy to use.
You open the file, paste your data into the green boxes on one page ↓

and see the answers on the next page: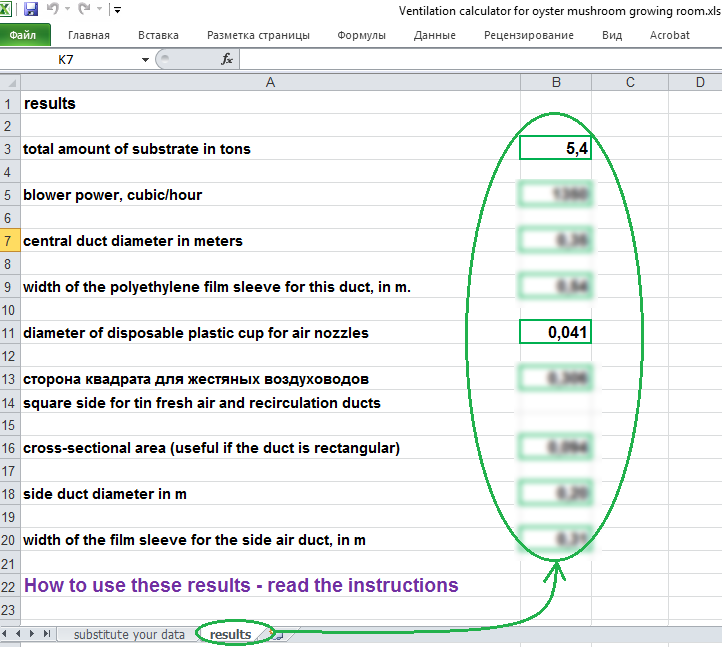 Grow room air exchange calculator
The page with answers (calculations) is blocked from changes.
That is, you see numbers in it, but you cannot change or delete anything and, therefore, destroy the formulas.
Just in case, I recommend that you download this file and not work in it.
Copy it under a different name and work in the copy.
If you accidentally delete cells on the first page, you can copy the file from the original one.
Using this ventilation calculator, you can calculate:
supply fan power,
the diameter of the air ducts and plastic nozzle cups through which the air will escape,
tin air ducts located before the fan.
The sides of the square are given in the calculator.
If the air duct is rectangular, you simply take the length of one of the sides that suits you. For example, if the ceilings are not high enough, one side should be smaller in height, and the other may be larger. To find it, you need to divide the cross-sectional area (line 16 in the figure) by this length and you will get the length of the second side.
To order a calculator or ask questions about it, write to me by email or whatsapp.
e-mail: veshenka.expert@gmail.com
WhatsApp: +380503960696